"Last Fall, I found out I had Fuch's Dystrophy"
Meet the participants of the Circle of Light Photo Project
---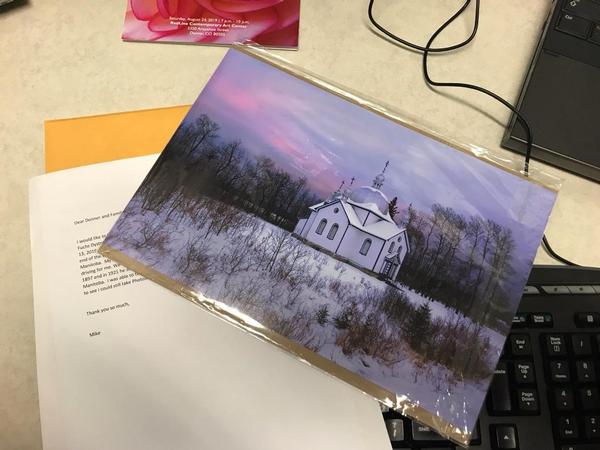 The cornea transplant recipients who participated in this year's Circle of Light Photo Project come from a wide variety of locations and backgrounds. Yet, each had their lives transformed by the generosity of another person through eye tissue donation and transplantation. While many cornea recipients regain their sight in total, some still live with vision loss due to other complications in the eye. Nonetheless, each is eternally thankful to their donors. Today, we'd like you to meet Mike Ahern.
Mike is a photographer and had his transplant on November 13, 2018. His transplant came up suddenly and Mike found himself unprepared for it. Nonetheless, just weeks after his transplant, Mike took this photo in the small town of Keld in Manitoba, Canada. It was the first photo he took after his transplant.

Today, Mike is thankful for his donor and his continued sight. "My first photo after surgery meant so much to me," he said, "but also to the small community of Keld."  One of the prints is hanging in the church, which is used once or twice a year as it is expensive for the community.  The community is now applying for a grant to restore the church.  "I want the family to know that their gift has meaning many others beside me."

The photo above is a picture of a letter to his donor's family. Mike also provided a print of a photograph for the family, the same picture that will be featured at our Circle of Light gala this Saturday evening.
The Circle of Light Photo Project is a collection of photographs taken by people whose blindness was treated by cornea transplants. Join us for the best art show and party in Denver on August 24 at the RedLine Contemporary Art Center. Your ticket includes the art exhibit, a cornea clindness experience, food, beer & wine, music by DJ Ginger Perry, and a silent auction of the photos and hundreds of other items. All proceeds go to help the Rocky Mountain Lions Eye Bank continue its sight saving mission. Get your tickets now!
Go Back