The Rocky Mountain Lions Eye Bank partnered with two UCHealth eye surgeons in May 2023 to bring the gift of sight to people in the Dominican Republic on a medical mission trip. The surgeons donated their time and teaching expertise and RMLEB donated time and effort to process the corneas. Through the partnership, 16 people who had been waiting for years for a cornea transplant can see today.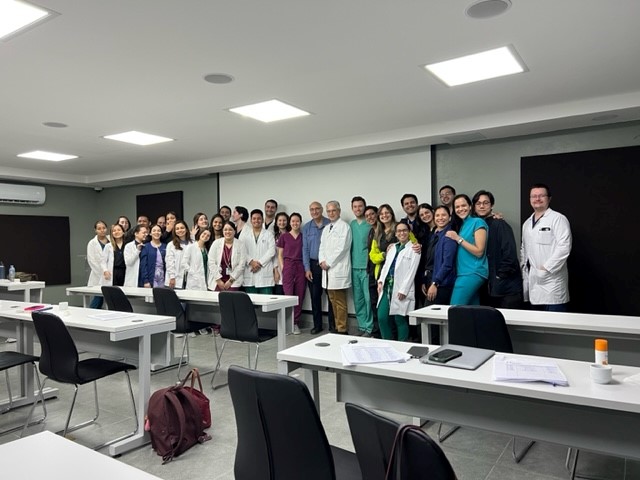 "This could not take place without the support of the eye bank," said Dr. Michael Taravella, Director of Cornea and Refractive Surgery Fellowship at University of Colorado. "They've been a partner with us since the first time I went back in the early '90s. They've always been willing to supply corneas and been very generous."
The mission trip this year was headed up by Taravella and included Dr. Michael Murri, an eye surgeon and a RMLEB Corneal Fellow. Also on the team were two residents from UCHealth, Amy Huang and Julia Xia, and oculoplastic surgeons Dr. Eric Hink and his fellow, Dr. Caroline Vloka.
The team took 16 corneas processed by RMLEB technical staff to the Dr. Elias Santa Hospital of the Americas in the Dominican Republic. The hospital serves the poorest of the poor who cannot afford to get transplants in the country's private hospitals. Since some patients only had one eye, these transplants were both sight restoring and life changing.
Meeting Needs in the Dominican Republic
The Dominican Republic does not have the culture of eye, organ and tissue donation that exists in the U.S. The country has only one eye bank, and it is attached to a private hospital; all of the eye tissue recovered from that hospital is used there. This leaves poorer residents who cannot afford private hospitals waiting years for transplants.
That is where the Dr. Elias Santa Hospital of the Americas steps in to help people in need.
The facility was founded in 1985 by Dr. Juan Batlle and William Hunter to help serve the poor of the Dominican Republic. It is one of the country's only public hospitals and functions like a safety net hospital much like Denver Health is for Colorado. The clinic sees "people who can't afford care otherwise," said Taravella.
And that can be a lot of people. Taravella said the clinic runs every weekday from 7:30 in the morning to 5 or 6 at night and sees as many as 1,000 people a day.
Murri described the May mission trip as a whirlwind of activity. They arrived late on Sunday, May 21 and started work early Monday morning. The day began with lectures to the medical students and triaging hundreds of patients. The afternoon saw both surgeons sharing operating space to conduct six corneal transplants.
"We could work side by side," Taravella explained. "We were operating on both patients at the same time which you can't really do in other places. It's a very efficient way. And they had two corneal fellows so we could work with both of them at the same time."
The next two days saw a similar pattern; lectures and training in the morning, and transplant surgeries in the afternoon. By the end of the mission trip, the pair had completed 16 transplant surgeries. As of this writing, all recipients are doing well and have had no complications.
Sharing the Gift of Knowledge
The Dr. Elias Santana Hospital also serves another need: as a teaching facility to train upcoming eye surgeons.
"Dr. Batlle models it after an American residency program," explained Taravella. "They have residents, they have fellows, they have supervision, and they have a lead doctor in every specialty."
Murri described it as a very elite, sought-after program with fellows and residents coming from all over the world. During the May mission trip, for instance, there were fellows from countries including Peru, Brazil, Argentina, Columbia, and Azerbaijan at the hospital.
"What's cool is the impact you have when you teach there doesn't just stay in the Dominican Republic; it goes out throughout all of South America," Murri said. "It's a highly competitive place and they are really just happy to be there."
The facility also has an official affiliation with the University of Colorado which allows UCHealth surgeons like Taravella and Murri to participate in the hospital's teaching program.
"The thing that we bring to the table to that program is not only our [cornea] tissue — which was supplied by the Rocky Mountain Lions Eye Bank and it has been for many years, I might add — but also just the experience of teaching how to do corneal transplants to their corneal fellows," said Taravella. "So that's what we focused on."
That ability to focus on corneal transplants is a unique element of the program and the needs it serves, according to Murri.
"In surgical training, if you're doing a case once a week, it's pretty good," he explained. "If you're doing it twice a week, you're really good. But, if you are doing that many [transplants] in three days, it just gets smoother and smoother the more you do it."
He also commended the local staff and the program's fellows and residents, describing the hospital as full of dedicated, technically skillful people. What the facility lacks, however, is good quality eye tissue.
That is where the Rocky Mountain Lions Eye Bank comes in.
Sharing the Gift of Sight and Skill
As mentioned, there are not many corneas to go around in the Dominican Republic. Few people donate and those corneas that are donated locally are transplanted locally. So, the country's eye surgeons generally rely on imported corneas for their transplants, and even that is hard.
"It's easy for them to get what they call 'tectonic tissue' where they are using it to save the eye from perforation," Murri explained. "But they aren't viable endothelial cells or good tissue. That's really hard for them to get."
RMLEB, however, supplied good-quality, sight-saving corneas to the mission.
"I would say the corneas that we brought down were of excellent quality," said Taravella. "I wouldn't hesitate to put [those tissues] in any recipient here in the United States."
He also pointed out that it was not only the high-quality tissues that RMLEB provided; it was also the skill.
"One thing that our eye bank does is they pioneered the technique of ultrathin DSAEK."
DSAEK — Descemet's stripping assisted endothelial keratoplasty — is a process by which the all-important endothelium tissue layer of a donor cornea is isolated from the other tissue layers. A usual DSAEK cornea graft is about 100 microns thick, which is about the thickness of an average human hair or grain of table salt. By comparison, ultrathin DSAEK cornea grafts can be as thin as 40 microns thick. A dust mote in your house is about this thin, and at this size, is difficult to impossible for the unaided human eye to see.
Ultrathin DSAEK grafts are preferred by a lot of surgeons as the thinner grafts help reduce the impact to the patient's eye and speed up recovery. But producing them takes extreme skill. This process was developed in part by a past RMLEB technician and current staff are trained in how to do it today.
Taravella said they are excellent at it.
"Bottom line is [the staff at Dr. Elias Santana Hospital] weren't doing [ultrathin DSAEK] in the Dominican Republic," he said. "So we brought some prepared tissue and showed them how to do it so that's something they can do."
All of this — both the processed tissue and the knowledge transfer — was made possible by the International Surgery Fund.
"Those are funds that were donated years ago — Dr. Richard Damiano who is a physician here in town started it — and it was set up to do this," explained John Lohmeier, RMLEB's executive director. Part of the point of the fund was to fund humanitarian efforts just like this one.
Looking to the Future
Even though the mission trip was able to restore sight in 16 people who might not have otherwise gotten the care they needed, there are still many more people on a years-long waiting list. Murri estimated there were 80-100 people who were still in need of a cornea transplant when this mission trip ended.
But this won't be the last one. Taravella said he hopes to see the mission trips to the Dr. Elias Santana Hospital continue.
"I know that we are committed to continue it and I am committed to continuing it as long as I'm here."
If you would like to help the Rocky Mountain Lions Eye Bank continue our work, consider making a financial donation. Together, we can share the gift of sight worldwide.